What About... More Tracey!
Thursday, November 29, 2007 expat 0 Comments
Here's a video from user: SarZol, taken via cell phone, of Tracey and cast, leaving the stage after the read through of Eric Idle's new play, "What About Dick?"
Encounter: Gina's LA Moment!
Thursday, November 29, 2007 expat 0 Comments
Our friend,
Gina
, has allowed us to repost her
recent encounter
:
An L.A. Moment


About a week ago, I got a ride after work from a friend so I could make a meeting in Santa Monica that night. We've known each other a long time, so our conversations tend to wander from what's so-and-so doing to shared rants. While dodging traffic on the 10, we got to talking about comediennes. It started with Carol Burnett (who was featured on American Masters this month) and ended on Tracey Ullman, when he said:

"What about Tracey Ulllman? What's she doing these days?" He said that with the indignation of someone who felt they'd been denied many good laughs.

I confessed I had no idea.

But I do now. In one of those odd L.A. moments, on Saturday the DH and I went to a yarn sale at a rather shi-shi yarnery on the Westside. We'd been enticed by the 20-40% off they'd advertised. It turned out that since their prices are higher to begin with, it wasn't a great savings.

However, as I was standing in line to purchase a knitting spool, I realized that the well-dressed woman in front of me was none other than Tracey Ullman. She was talking to the woman behind the register about sleeves.

When I got home, I hit Google. It turns out she's become a big knitter. In fact, she and (I'm almost positive) the woman behind the register wrote a book.

At any rate, next time my friend asks me, "What's Tracey Ullman doing these days?" I'm going to have the answer.
Go check out Gina's blog at
http://www.ginablack.net
Exclusive: Famous Famous Due in "State"
Sunday, November 25, 2007 expat 0 Comments
We can exclusively reveal that the following celebrities and characters will be portrayed by Tracey in her new Showtime sketch-comedy series,
Tracey Ullman's State of the Union

,
due early next year. These are just some of the famous faces included in the show.

Andy Rooney
Hellen Mirren
Dame Judy Dentch
Pauly Walnuts (The Sopranos)

If It Ain't Stiff...!
Friday, November 23, 2007 expat 0 Comments
Tracey on her music days. From BBC4 Documentary on Stiff Records.

What About Dick... And Tracey?
Friday, November 23, 2007 expat 0 Comments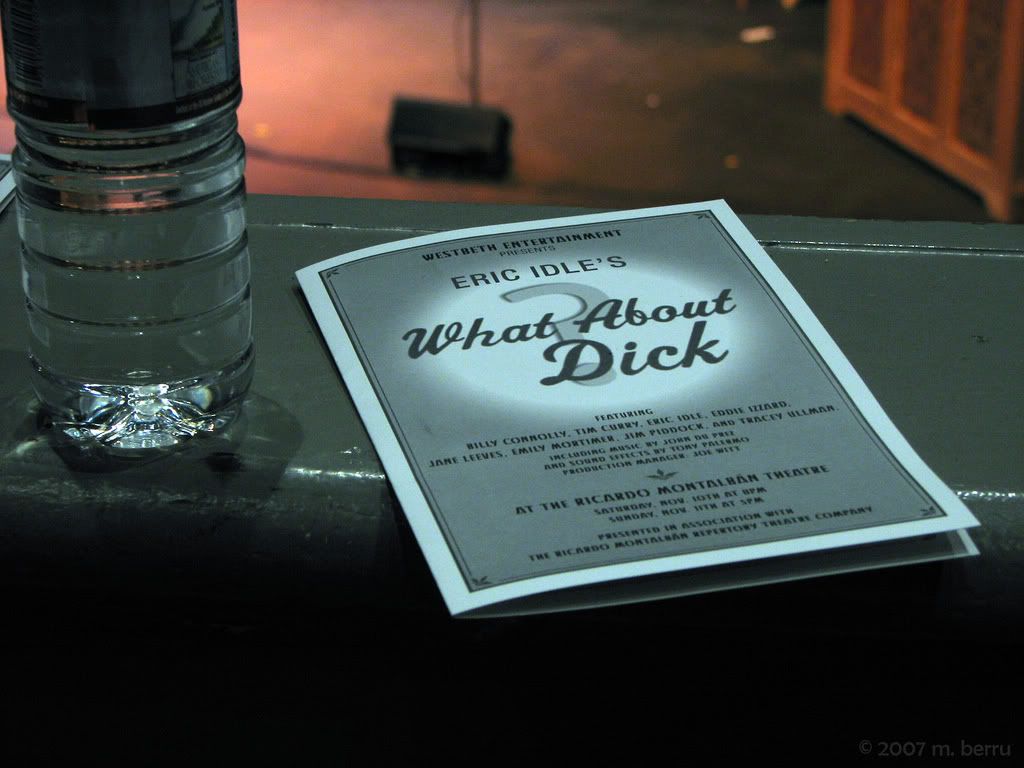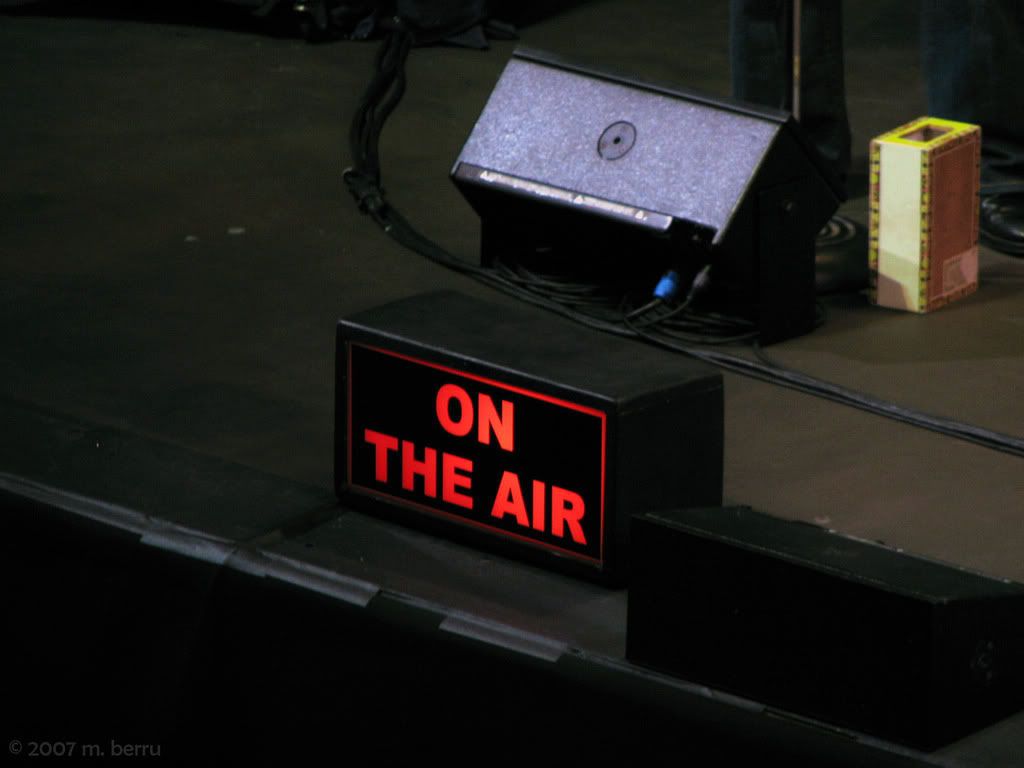 Attendee, Suzi, shared her experience and opinion of the Eric Idle's new stage show,
"What About Dick?"
The cast included, Eddie Izzard, Billy Connolly, Jane Leaves, and Tim Curry, among a line of others. The actors performed a "read through" of the Idle play, live on stage, which included Tracey. Suzi was also nice enough to share her photos with us...

The play was a "movie for radio" (Eric Idle's words). It was a read
through as if they were recording for radio. It was a 'low-brow comedy about high-brow society', it was a hilarious romp through the early 1900s with laughter, music, a little murder, and a talking piano.

I loved the show, it was hilarious and obvious that the cast was
enjoying it as much as the audience was.

Tracey played multiple roles (as did most of the cast) from a
lower-class woman who "provides therapy for men" to an upper class Aunt who is seeing a therapist who uses vibrating "implements" to cure uptight women.




How Does Toyah Wilcox Feel About Tracey Mimicking Her?
Saturday, November 17, 2007 expat 0 Comments
Can't say she isn't honest.
HEATHER:

What do you think of people like Tracey Ullman (below) mimicking you?




TOYAH: In the beginning I used to hate it, I wanted smash her face in but in the end all they're doing is complementing you. And I can look at… I saw a playback of her mimicking me only about a year ago and I actually enjoyed it but when she first did it I was really angry but that was 'cos I was young and stupid.


Read the rest of the interview
here
.
Tracey's TCM Picks!
Saturday, November 03, 2007 expat 0 Comments
Nov. 17, Tracey Ullman
: "Kes," "Born Yesterday," "Withnail & I," "I'm All Right Jack."
More On Tracey's Turner Classic Movies Episode
Friday, November 02, 2007 expat 0 Comments
Tracey's TMC movie picks revealed.
Watch Tracey host Turner Classic Movies
,
November 17, 2007
.
Guest Programmer Month at TCM
This is kind of a nice month on
Turner Classic Movies
, since my beloved "best channel ever" is devoting every night of November to the guest programming of various well-known folk. It could have been a dud, I know, but luckily only three of the thirty celebrities fall into the "Who cares?" category (those would be Donald Trump, Martha Stewart and … Kermit the Frog). One can also quibble with the fact that a great deal of the movies chosen happen to be the same movies that TCM already plays all the time, ad infinitum.
For the most part, however, an eclectic array for both guests and films are in the offering this month. My personal favorite might be the playwright Charles Busch on November 8th, who picked a variety of overlooked leading lady performances which include Norma Shearer in Escape, Joan Crawford in A Woman's Face, and Ida Lupino in The Hard Way. Although I've seen all three films, it might be worth tuning in just to see what Busch has to say. Crime fiction author James Ellroy has a bunch of cool noirs to share on the 13th, and I found it interesting that Matt Groening selected the wonderful 1941 Warner Bros. melodrama Blues in the Night to show on his night (11/14). Tracey Ullman's offerings on the 17th include a few lesser-known British films and the eccentric Peter Sellers vehicle The World of Henry Orient (in which he plays a famous pianist hounded by two persistent teenage girls), which makes me love her all the more. Finally I also have to laud opera's Renee Fleming for doing a night of classical music-themed romances on the 19th, and Mark Mothersbaugh for including the groovy combo of Fellini's Juliet of the Spirits and the cheese-o-rama Hot Rods to Hell on his night of the 29th. Guess I'll have to set the TiVo for overtime.
Article
Tracey on Caroll
Friday, November 02, 2007 expat 0 Comments
"She's like celebrating people," adds Tracey Ullman, who insists that even at Burnett's most hideous, as in the Eunice character from the skit that would later become the Vicki Lawrence series "Mama's Family," there's a charitable treatment of the person she's playing.

"Carol wasn't imitating people to be mean about them or to put them down," says the actress Tracey Ullman. "She was celebrating people."